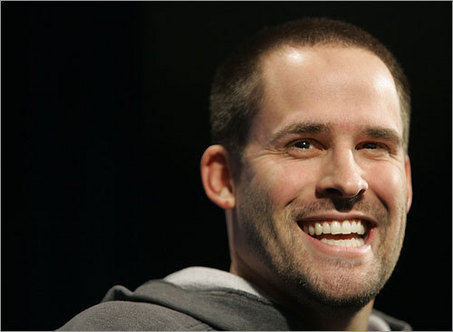 Been sick as a dog this week, so let's cobble two lines of thought into one post...

- I've been saying this all week, but it's worth remembering: A 20-17 near miss would have counted for just as many losses as that 45-3 blowout did for the Jets. If you thought we were going all year without a total meltdown by a Jets team comprised almost entirely of combustible elements, you were crazy. That game was lost in the first quarter (really as soon as Eric Smith gave up a PI in the end zone), things got away from a team that was utterly unprepared for the tone the Pats wanted to set early in the game, and then the only way things could end was in a blowout. Again, it happens; anybody who doesn't sympathize with things spinning wildly out of control either hasn't risked anything or is in the midst of that cycle and doesn't realize it.

None of which is to say that the Jets had the right idea going into the Monday night debacle. New York showed up for their usual drawn out, meandering game in which they hang around and are healed by a miracle at the last second. New England, by contrast, was out make an example of the Jets early and march around Foxborough with their heads on pikes for three quarters. The end result was the Pats jumping out ahead (thanks, in no small part, to the genius tandem of Eric Smith and Robert Turner, who need to vanish quickly) and the Jets having nothing even resembling an aggressive mindset, let alone an aggressive response to unexpected circumstances. The whole thing was sickening to watch for anybody who believes that players or coaches value winning above putting forward a respectable face, and the Pats should be commended for killing the idea of respectably losing early in the game. It's no way to live in the NFL, and shouldn't be tolerated.

Equally intriguing is the idea that the Pats have once again become the enemies of talent rising above that we all remember from 2007. In eschewing Moss and making him look like a spare part instead of one of the most gifted receivers of his generation, and replacing him with an offense based on interchangeable pieces, we're once again looking at a team that deliberately devalues the power of the rare individual, once brought to their full potential, to overpower any planning or manipulation from off of the field. If that seems harsh, it's actually just an understanding that Bill Belichick is the single greatest scheme creator (or disruptor, if you prefer) ever. The shame of it is that it's all executed with this air of entitlement and unwarranted indignation, as if we all don't know how good this team is (a lie apparent to anybody who watches any sports media) or this team exists without any "superstars" or is better without having elite talents (a lie because TOM BRADY). I'm thrilled to have somebody to hate again. Also, New England is super racist. Look it up.

- The other big thing on my mind is the McDaniels firing, about which I alternate between being understanding and disappointed. On the one hand, McDaniels is, for lack of a better word, a jerk. He undermined Jay Cutler's leadership on the field in his first months on the job, and he completely refused to work with the most talented offensive weapon on his team. Throw in the Peyton Hillis trade, which flew in the face of all logic even when he made it (people forget he did good work in Denver), and the hammer was primed to come down on the abrasive youngster who acted with brazen recklessness because he simply believed he was smart enough to succeed without mastering basic leadership tools and concepts. History has shown that nobody is that smart.

Except I kind of believe that McDaniels might be smart enough to get by while he doesn't have those tools and recognize the need to develop them in the meantime, and if that's the case, isn't this a really, really, REALLY big mistake by the Broncos? The truth is that in two years, McDaniels has just now managed to put whatever locker room dynamic that he was hoping to create into place. He's kept a team that is significantly less talented (at the present stage of development) than their opponents in games that they have no business keeping close, has coached Kyle Orton and Brandon Lloyd into an elite passing tandem, and is starting to see signs of life from Knowshon Moreno. Also worth noting is that he wasn't the one who shipped Cutler out of town; Bowlen did that on his own. So if you believed in him a year ago, and were thrilled with him when he took a more talented but still clearly flawed team to greater success, has so much changed in one year that it merits this? Worse still, what happens to the young offensive talent that McDaniels has pieced together when a new regime takes over?

In the end, I get the firing, but I feel like we'll look back on McDaniels's two years in Denver the way we look back on Mangini's three years in New York: Largely a failed experiment, but there were flashes of brilliance along the way hinting at future potential. The difference is that McDaniels isn't being given the one additional year Mangini got to test whether or not his system would succeed with the roster he had crafted and established (and it's worth noting: Mangini learned how to temper his own self-destructive idiosyncrasies en route to being a great coach in Cleveland). That year could have made a huge difference, and I think it would have been a worthwhile investment in one of the most innovative offensive minds in the league (and yes, if somebody takes Schotty off of the Jets' hands, I want the Jets to pay him whatever he wants). If we demand that coaches develop their players, it's no less important for franchises to allow young coaches to grow into the leaders they expect them to be.

Alright, back to health, and back tomorrow.