With not much time left until the season, and the Bar Exam having eaten my summer alive, we'll be going through Premature Evaluations division by division, explaining why each team is more interesting than you may think, and even picking the team we think will come out on top of each division. Today, we continue with the AFC South, where waiting for the king to die could prove to be a losing strategy.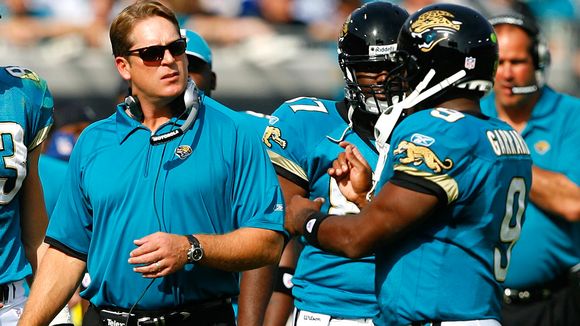 Jacksonville Jaguars

So did we lose David Garrard to the mists of unmet potential? Three years ago, there were two quarterbacks in the league better than Garrard, who had the size and speed to keep defensive fronts guessing and a stunning knack for making good decisions with the football. One year and two unfortunate offensive line injuries later, some the shine came off of Garrard. Then, in a season that was supposed to be about Garrard's redemption as a passer, Jack Del Rio got rid of both of Garrard's favorite receiving targets (Reggie Williams, who never rose to meet his physical gifts, and Matt Jones, who Del Rio devoted his coaching tenure to ruining), only to have the next best target (Troy Williamson) go down with an injury two games into the season. None of this is an excuse; bad things happen, and good players deal with it. It's simply an acknowledgment of the unfortunate realities that often go unmentioned in the stat lines of a season.

At some point, though, a sad chapter becomes a sad ending. This is that turning point for Garrard. The same is true for Del Rio, and perhaps the Jacksonville Jaguars as a whole (that stadium in Los Angeles isn't staying empty for long). And there are reasons for optimism here, in spite of the steady downward trajectory of the past two years. Mike Sims-Walker was a top 40 receiver in his rookie year who flashed skills in both possession situations and as a deep threat, and is the sort of franchise hometown hero that fans either root for or don't deserve. He'll be joined by Troy Williamson, who has speed to be a perfect second target, and earned a starting role on the team prior to his injury, and Marcedes Lewis, who has all the tools needed to be that formerly unknown veteran tight end who ruins your fantasy league out of nowhere. Meanwhile, the defense added two potential top flight talents along the defensive line (and Tyson Alualu, though certainly a reach in the first round, was also a potentially great "can't miss" pick for a team that just couldn't afford a draft failure). There's size, there's speed, and, if Garrard and Del Rio can recover some of the juice that made them America's least likely power coach/QB couple three years ago, there's a core for all of these pieces to work around, and this team can shock the league.

Unfortunately, they're up against competition that is bigger, badder, and more proven than the Jaguars may be up to facing. The Colts are still running the AFC South corner until Peyton says otherwise, the Texans have supplanted the Jaguars as the phenom unit of the division, and even the Titans are better at the Jaguars' strengths than the Jaguars are (MJD, as great as he is, is basically a poor man's Chris Johnson). Even on their best day, this feels like too much for a Jaguars team in flux. So, once again, David Garrard is staring down the barrel of a season in which he'll be defined less by his own merit, and more by the surrounding circumstances, buried alive under all of the context.



Tennessee Titans

When a coach fights to prove that a team belongs to him, and not to a particular talented player, the result is often that the team is taken away from both of them. Such is the situation facing Jeff Fisher and Vince Young this season. Young, two years removed from a misunderstood personal crisis that combined equal parts immaturity and mental issues, desperately needs to build on last season's positive finish in order to prove that he can still become the quarterback of the future we still think he can be (his performance last season showed both improvement as a conventional passer and no less of an ability to punish defenders with his individual athleticism). Fisher, by contrast, needs to show that last year's refusal to give Young the chance to succeed with the team was an anomaly and not a fundamental inability to work with a talent who will determine whether the Titans are a great running team or a legitimate championship contender.

Seriously, this is the perfect Jeff Fisher offense if he stops worrying about control long enough to notice. Everybody knows about the ground game (we'll discuss this during the season, but the Peterson/Johnson debate is stupid; Johnson all day, every day.), but how is nobody talking about this receiving corps? Justin Gage (standing 6'4") and Kenny Britt (6'3") as twin tower monsters on either side of the field? Nate Washington as the speedy slot receiver to take advantage of single coverage? Hell, they even added another solid possession man in Damien Williams, giving them the ability to dominate defensive mismatches on every level. If Fisher and Young can get on the same page, and play off of each others' strengths instead of fighting to prove each other wrong, I'm not sure there's a defense in the league that can match up with this unit. If they keep fighting, leading Young to rely too much on his own talents or Fisher to take the ball out of his quarterback's hands and make the team one-dimensional, this is going to be another mediocre season for a team that is built to be so much better than that.



Indianapolis Colts

For all the talk of a hangover for Super Bowl losers, does anybody really expect Peyton Manning to let this thing go that far off of the rails? Furthermore, has this team's offseason given us any reason to think they're slowing down? The usual suspects (Manning, Wayne, and Clark) return on offense, and are bolstered by a now seasoned Austin Collie and Pierre Garcon (respectively an elite possession receiver and a consistent threat downfield). Donald Brown figures to step comfortably into his role as a member of the rushing platoon with Joseph Addai, potentially adding a legitimate ground threat to an offense that has been one dimensional since their 2006 championship (last year's league worst 80.9 rushing yards per game was utterly depressing and a big reason for the team's loss in the Super Bowl).

But it's the defense (14th against the pass, and 24th against the run) that needed the most revamping over the offseason. To that end, the Colts added talent at all three levels in the first three rounds of the draft. Third round pick CB Kevin Thomas is a cerebral corner that should pick up the zone schemes of the Colts quickly, and second round pick LB Pat Angerer, though no athletic standout, is the sort of no nonsense, high productivity LB that the Colts love to rotate onto the field. First round pick Jerry Hughes, on the other hand, was a riskier, but infinitely more exciting pick. A top of the draft athlete who fell largely due to concerns regarding the mental part of his game, Hughes joins a pass rush that already boasts elite DE Dwight Freeney and perennially underrated speed DE Robert Mathis. Even if Hughes plays only somewhat up to his potential as a rookie, the support he'll give to those two veterans promises to keep this defense operating at an efficient, effective clip, making him an important addition to a defense that relies on speed and is slowly getting older.

In the end, then, the additions and improvements only serve to highlight the remarkable consistency of the Colts. Having come to define the way greatness looks in the NFL, the Colts are now faced with the struggle to meet their own remarkably high standard. Yet it's the refusal to fail by both its front office and its stars that make the team a consistent contender. Year after year, in the face of a league that sees teams' fortunes change in a heartbeat, this team displays a remarkable will to survive, to maintain that which they've achieved, where other teams would accept the impossibility of consistency given the circumstances. They don't gamble to become great; rather, they work even harder to remain great. Having shown no signs of softening that passion, it's hard to imagine the Colts as anything other than the favorite, especially considering how hard they've worked to make it look like they haven't changed all that much since last year.



Houston Texans

Nietzsche had something to say about the "will to survive" though. To paraphrase him: It's for pussies. Instead, the driving force of human achievement is, according to him, the "will to power", a drive to create and dominate. He'd probably like this Texans squad. Guess which passing offense was best in the league last year, with both the leading receiver in terms of yardage and the quarterback with the most yardage and fifth most touchdowns in the NFL? I know, I thought the Saints or Colts would be the answer, too. The Texans had a dominating offense last year through the air. Meanwhile, their defense showed improvement, with their talent loaded line finally gelling and proving strong support against the run (11th in the league). Held back only by a gaping hole at CB (the Dunta Robinson experiment is finally over) and a bizarre meltdown at RB, this team was a game away from the playoffs after a season in which they lost one game by more than one score (and in which they seemed to have a handle on everyone except for their divisional opponents, going a miserable 1-5 in the AFC South).

So, this team's offseason consisted of doing what they've been doing since they took Mario Williams first in 2006 (seriously, Charlie Casserly deserves to be a GM again after how that played out): They're taking the best possible players, and finding ways to fit them into their system. They did it when Matt Schaub was available in Free Agency; they did it when a 19 year old Amobi Okoye entered the draft in 2007; and they did it this year with CB Karim Jackson and RB Ben Tate. Jackson, though less physically dominant than fellow rookie CB Kyle Wilson, was almost certainly the most pro ready first round corner available, and should make an immediate impact on a pass defense in desperate need of help. RB Ben Tate, the true find of the Texans draft haul, might be the best RB in the draft, with excellent size and strength combined with top flight speed. Combined with Steve Slaton (who just has to be better than last season's fall from grace), Tate gives the Texans ground game the same versatility they have in the air. The end result is immediate improvement to the team's weaknesses (The ground game and pass defense were 30th and 18th in the league, respectively), with the potential to turn them into strengths in the next few years.

The question, then, is when talent wins out over tradition, and whether a powerful will to power overcomes an equally powerful will to survive. While the rest of the division seems content to sit by and wait for the Colts to slow down, tweaking their own systems and occasionally catching lightning in a bottle, the Texans have committed to beating the Colts while the Colts are still "THE COLTS," which is an admirable goal given the complacency of their peers. By piling talent on talent and making risky moves that have panned out, the Texans have positioned themselves this season as the one team with the firepower to actually make a power play at Indy. Ask yourself, does anybody really think they can stop Matt Schaub and Andre Johnson, particularly if they have to account for a run game as well? If Karim Jackson makes receivers work a little harder to get open, are blockers going to keep Mario Williams and the rest of the defensive line at bay? Years from now, we may look back and wonder what could have been if the Texans had waited to make their move for a few more years, attacking an older and weaker Colts team, building more slowly and waiting for the throne to open up. Then again, we may look back on this season and remember it as the definitive moment that the Texans identity changed from that of an expansion franchise to a bona fide AFC South dynasty, proving that power has to be taken, not awaited. If that happens, the rest of the division will lament the immediacy of the regime change, seeing as they've been preparing for anarchy for so long.

PREDICTION: Texans win the division (followed by the Colts, Titans, and Jaguars). The will to survive is too boring to root for, anyway. Time for the bold to claim their reward.