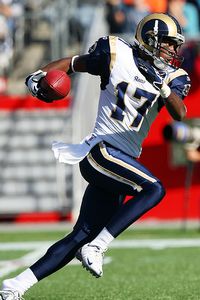 Let There Be Light (album version) - JUSTICE
For a minute, it really looked like he should give up on NFL football. After all. the arena leagues seemed built for a player that combined athleticism with a knack for quick work under center. Besides, nobody was taking a chance on a wandering outcast. It had been years since he'd gotten so much as a sniff of life under center in the pros. Maybe the people at Home Depot were right; maybe it was time to give up on struggling for stardom and embrace settling into a hyper talented blandness. Except nobody, not even his strongest doubters, could shake that nagging talent. It was there, in every quick release, in ever gutsy play brought back from almost certain failure. He had the gift, plain and simple. So when the Rams finally took a chance on him, and everyone doubted it, secretly both team and player knew; this was what he was born to do. And he did it. Play by play, he turned a lifeless team embodying a lifeless city into a fireworks display that America could not take its eyes off of. It was beautiful, and all the more so because nobody would have believed it if they hadn't seen an outcast wander into town and change everything.
I'm talking, of course, about Kurt Warner's history in St. Louis. Kudos to you for getting it. I'm also talking about why Michael Vick needs to be in a St. Louis Rams uniform next year. Shame on you for missing it.
Face facts, St. Louis residents, Marc Bulger robbed you all blind. The man is terrible at making decisions under pressure, which was all he saw once LT Orlando Pace officially started to break down last season. The result was an endless montage of watching Marc Bulger die at the hands of big, angry pass rushers. Meanwhile, while we were all watching Marc Bulger's snuff film, what went almost unnoticed is just how talented the Rams are on offense.
I'm not even talking about "man, just wait until they get there" talent; I'm talking about ready to roll, hitting their strides firepower. WR Donnie Avery, who I said looked like the next Steve Smith, did nothing to prove me wrong, throwing up ridiculous numbers for both receptions and yardage for a receiver of his size. Across the field and toiling in obscurity are the veteran Dane Looker and the promising young gun Keenan Burton, with the latter showing consistency down the stretch and hinting that the Rams may have a potent one-two punch in the passing game for years to come. Oh, and then there's RB Steven Jackson, who should be in the conversation of most versatile feature backs in the league and yet somehow gets a rep for being soft. Dude put up over 1400 total yards in an injury shortened season where he STILL managed to have the 11th most rushing attempts in the league. But yeah, he should probably decorate cakes or something.
And all of this is useless in the hands of Marc Bulger. The man makes an excellent still photograph of a quarterback, but that's about it, and if this isn't an offense built for a dynamic, versatile threat under center, then there is no offense built that way and Brian Brohm should start for every NFL team. Michael Vick, on the other hand, adds a third head to this beast. All of a sudden, Jackson's ability to catch out of the backfield turns him into a potentially deadly dump off target when pockets collapse. Think Avery and Burton couldn't wreak havoc on defenses suddenly forced to stay home for fear of Michael Vick torching them for a first down? Yeah, I know the man killed dogs, but this is St. Louis, where the cameras haven't been looking since Kurt Warner left the building; nobody will care after about two weeks…unless, of course, Vick does what he's already shown he can do and turns an otherwise directionless offense into a constant scoring threat.
I haven't even talked about the defense, but any front line with Chris Long, Adam Carriker, and Leonard Little could get the job done if only they didn't have to be on the field after every four offensive downs. The point is that last year, in a division that was widely agreed to be the most boring in football, the division champ wound up in the Super Bowl thanks to offensive flash and the same puncher's chance that everybody gets in the playoffs. This Rams team has the potential to be better…MUCH better. If there's any place better suited for Michael Vick, once the most popular and fun to watch player in football to make a reentry into the mainstream, it's on this team, where the quiet has kept all the tools he needs to succeed hidden for far too long.