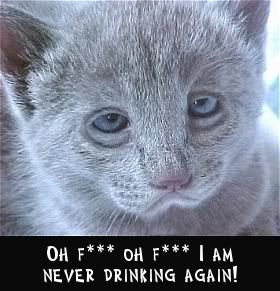 FOOTBALL IS BACK!!!

I woke up Sunday morning smiling. The air smelled fresher. The sun shined brighter. My 10AM Sunday morning beer made me not want to wretch quite so much as it otherwise would have. Still, the inaugural Sunday Funday almost didn't happen. That's because our usual spot downtown initially had trouble getting DirectTV to work. So, we had to wander for about 10 minutes (if that sounds like nothing, you have no idea how little sunlight we were anticipating) until we arrived at the anti-Sunday Funday. The place fooball fandom goes to die. The abyss where the worm that will not die resides. That's right, we found a Patriot bar. You would think that this wouldn't have been as bad, given that their fearless leader got Carsoned (could be worse…he could be Culpeppered). But you really haven't heard obnoxiousness until you've heard a bunch of displaced New Englanders gathering in a hot, smelly bar to scream every time Matt Cassel throws an 8 yard out. If I felt bad for kind of being glad that Tom Brady had a knee injury, all that went away by the time that some drunk named Fitzy was explaining to me that Matt Cassel was going to give Brady the Bledsoe treatment. There's a special circle in football hell for people who root for two season ending knee injuries in one day, and on Sunday, I joined that circle.

I only tell this brief story to remind you to treasure your football bars. Treasure them like they were your family. Seriously, there are terrible atrocities being committed by Irish racists every Sunday in bars like Professor Thom's across the country.

The Hangover

• Wave a preemptive goodbye to the snazzy suit and tie combinations of Mike Nolan, who decided that the best way to avoid being blamed for the Alex Smith era was apparently to create an even bigger debacle by launching the JT O'Sullivan (happy hour till 10!) era. Against a sub par defensive squad whose best players are still young, O'Sullivan (I go for the poppers!) managed to turn the ball over three times and throw no touchdowns. The game wouldn't have even been as close as it was if Frank Gore hadn't come back to frustrate every single one of his fantasy owners last year with a 41 yard TD run. New rule: Coaches who cripple the development of their own first rounders should always be on the hot seat, regardless of performance.

• The biggest story of the weekend has to be the Brady injury. As much as he's been the bane of my existence as a fan, the fact remains that he is one of the best quarterbacks that any of us have ever seen play. Best wishes for a speedy recovery, because the league is a much less interesting place without him.

• That said…BWAHAHAHAHAHAHAHAHA!!! Today is officially Bernard Pollard Day for everybody else in the AFC East. Watching Pats fans get all excited over squeaking past the Kansas City Chiefs was fun. LET THE MATT CASSELL ERA BEGIN!!!

• Hold on, Cleveland fans, you're telling me that a guy who had one good half of a season and couldn't beat out Charlie Frye for the opening day starter's job last year might not be the quarterback of the future, and that maybe getting a 1st and 3rd for him at his peak value while transitioning to your drafted QB of the future might have been the right call? Where have I heard that before…

• Also, it's good to see Braylon Edwards returning to form (2 catches for 14 yards and a case of the dropsies). All we need now is a definitive blowup with the media, followed by Kellen Winslow using his own good performance to throw the rest of the team under the bus, and we'll be able to return the proud Browns franchise to where it belongs. Ugh...

• On a related note, the Cowboys offense looks absolutely terrifying. The Browns would make a high school offense look potent, but three different receivers caught 5 or more passes for over 80 yards, and against a line that spent a lot of money to put run blocking in Marion Barber and Felix Jones looked like the team only passed the ball because it wanted some variety, not because they couldn't just run up the gut all day.

• The biggest disappointment of the day has to be the Houston Texans. How a team with so much invested in its defensive line can allow an undersized back 5.5 yards a carry for 138 yards and 3 TD is beyond me. Nothing clicked for the team, with Steve Slaton proving incapable of breaking for big runs, and Matt Schaub throwing two picks against a Steelers secondary that was heralded as being a team weakness. The fact of the matter is that until that team has a receiving option besided Andre Johnson (who was dominant with 10 receptions for 112 yards), the Texans aren't going to be able to open the field up for Johnson to stretch it vertically or for a speed back like Slaton to do some real damage.

• You will never, however, hear me complain about a game that sees not one, but TWO Byron Leftwich rushing attempts. Run, you fat, glorious bastard. Run.

• Yes, I watched the Jets game. Yes, I realize that the second TD pass was one of those Favre "Well, SOMEBODY'S gotta catch it" moments. Still, give the guy credit for going for it and realizing that on 4th and 13 deep in Jets territory, an INT in the end zone is no worse than a dropped pass, and is much better than a sack. Hell, that was the most positive experience I've had as a Jets fan. I was even cheering for Thomas Jones. Yeah, THAT Thomas Jones.

• You know what's probably a good investment? Using the ninth pick of the draft on a small receiver who did not go over the middle of the field once, then got manhandled on the final throw of the game. Oh, and he managed to execute a reverse that was easily the most complex showing I've ever seen for a 2 yard gain. How does Ted Ginn Jr. not get more credit for being the biggest bust of the 2007 draft again?

• Fake kicks are awesome, as evidenced by Buffalo's showing against Seattle.

• While I'm on it, give the Seahawks the silver in the biggest disappointment of the day competition. I don't know how they pulled it off, but this team has managed to finally leave absolutely nothing even mildly compelling on their roster. Hasselbeck couldn't get a rhythm, the defense couldn't stop the offensive firepower of…um…Trent Edwards? All of this led to the least interesting running back tandem in the history of football being unable to get a consistent run going. Oh, and I'm pretty sure I got a text from the Seahawks front office asking if I knew anyone who'd played receiver. Nate Burleson is not putting the fear of God into anybody.

• In retrospect, I should have probably seen trouble coming from an offense consisting of a left tackle on the way out, a senior citizen who I used to think was really fast when he was in college and I was about 10, a running back who's bones break due to light contact or high pitched frequencies, an undersized overrated draft pick, a quarterback whose one good year really didn't take the team anywhere, and a goofy white guy who actually plays like a goofy white guy. Former Rams owner Georgia Frontiere died last January, and she was probably the luckiest Ram fan on Sunday.

• Take note: The Eagles did that with Kevin Curtis injured. I was down on DeSean Jackson, but in that passing offense, he might be perfect for finding places to catch the ball in space underneath the defense.

• I wonder if there is a single Chiefs fan who was as distraught as Pats fans were about Brady's injury when Brodie Croyle went down with a shoulder injury. Seriously, if you're a Chiefs fan, please write me and let me know why you were ever all hot for a guy whose greatest achievement is not getting killed by Auburn in college.

• If the Chargers don't start going downfield, that offense will easily be the biggest waste of talent I've ever seen. Even Tomlinson can catch passes, so why is Rivers only getting 27 attempts on a day that the Panthers showed they came prepared to stuff the run? Does that make any sense to anybody? Dante Rosario, Muhsin Muhammad, and DJ Hackett all had more receptions than anyone on the Chargers. Seriously, Norv, just go sit in the corner for that one.

• Also, if we can consider the Chargers a more talented version of the Saints, then don't be surprised if the Panthers don't just win the NFC South, but run away with it as well. Stewart is eventually going to become more comfortable in the backfield, and Steve Smith is back in two weeks. If Rosario is going to remain a viable offensive weapon, this offense looks pretty good for an offense helmed by Jake Delhomme…so it's probably still kind of mediocre but whatever, they still won, alright?

• Aside from me being ever so right about Chris Johnson (seriously, a 4.24 40 yard dash, and we're wondering whether or not he should get as many touches as Lendale White, who runs the 40 in two separate 20 yard dashes with a lunch break in between?), there was nothing positive for me in the Titans 17-10 victory over the Jags. VY got hurt after looking the whole game like someone was murdering his puppy on the sidelines, David Garrard couldn't get the ball into the end zone and looked flustered (he threw 3 interceptions all year in 2007, and threw 2 in one game on Sunday), and aside from Matt Jones the Jacksonville passing game looked unbelievably boring. There are grudge matches that highlight the beauty of ugly football, and then there are grudge matches that teams manage to survive in spite of the overwhelming ugliness. This was the latter.

• Oh, and booing Titans fans, I'd respect your desire to support putting Kerry Collins in as starter if I thought you had any common sense. The trouble is that you don't. I know this because YOU'RE SUPPORTING PUTTING KERRY COLLINS IN AS STARTER. Really? You think that Kerry Collins is going to maximize some sort of potential in Justin Gage or Justin McCareins that VY can't? Yeah, see how that works out for you.

• Joe Flacco was the high passer in the Baltimore/Cincy game throwing 15/29 with 129 yards and no TD (although he also impressively threw no INTs). For the record, the Bengals offense has the following individuals in the passing game: Carson Palmer, Chad Ochocinco, TJ Houshmandzadeh, Ben Utecht, Chris Henry, and two 2008 draft picks. Yeah, these guys are going places. Oh, and further proof that overthinking is the enemy of fantasy football: Chris Perry averaged 2.1 yards per carry with 37 yards on 18 carries.

• Meanwhile, nothing that you saw takes away from the fact that Troy Smith would be doing a better job with the Ravens offense right now than Joe Flacco. That said, any time a rookie comes into his first game against a division rival and manages to more the offense while not screwing up, it's a very positive sign. Also, take note of Flacco's scary wheels (4 rushes for 39 yards). Once Todd Heap decides that the passing game might be better if its best receiver starts catching passes, I see good things happening.

• Matt Forte is the TRUTH. 5.3 yards per carry and more receptions than anyone else on his team.

• Regarding the Colts: Everybody take a deep breath. The bad news from Sunday night's loss is that the run defense looked awful. There is no reason that Matt Forte should have been able to move down the field as consistently as he did. That led to the whole system falling apart, with Joseph Addai getting only 12 touches, and then Dallas Clark, Manning's best red zone threat and most reliable intermediate target (now that Marvin Harrison is getting old), went down with a knee injury. Bearing that in mind, things are not as bad as that loss made it seem. The run D needs shoring up, but everything else should be fine once they stop giving the game away on the ground.

• Reggie Bush puts up 51 rushing yards on 14 carries, and 112 receiving yards and a TD on 8 catches. THAT is how you use Reggie Bush. Oh, and anybody who says that's not worth a first round pick is crazy. If the Saints go as far as some people think they can this year, it's going to be because they keep using Bush all over the field. Oh, and also because they'll stop using a 10 man defense. Wait, they were using a real defense last year? Um…

• Screw you, Detrtoit Lions. Here I am, ready to get all hot and bothered over Michael Turner (and Jerious Norwood, who will be to Michael Turner what Michael Turner was to Tomlinson) crushing your team for 313 yards and 3 TD on 36 carries, then I remember that you're the Lions. To quote a friend of mine, "Yeah, our flag football team would probably look like a competent NFL offense against the Lions." Oh, and that's from a Lions fan. We're taking his belt and shoelaces away for the rest of the season.

Well, that was a tragically unfunny, yet meaty Hangover. Let's do a quick divisional rundown…

AFC East
Bernard Pollard should win the AFC East defensive MVP right now. I like the Jets, but whatever the Bills did to the Seahawks has me worried.

AFC North
Steelers. Joe Flacco isn't going to carry the Ravens to the promised land this year, and Jamal Lewis (NOT Derek Anderson) is going to be the reason the Browns can't quite get over that hill.

AFC South
That Titans game will come back to haunt the Jags. Remember I slipped that in here. You've got to like the Titans, who look like they can bludgeon teams to death, but now have the home run hitter they've needed in Chris Johnson.

AFC West
The Chargers looked alright in a weird loss, and unless Darren McFadden and Jamarcus Russell can light up the scoreboard, create offense in the absence of anything resembling protection, and make me feel loved and accepted, San Diego is still on top.

NFC East
Until Kevin Curtis gets back, I'm taking the highly touted and highly paid Cowboys over the defending champs and the Philly team picked to win the division for the 20th year in a row.

NFC North
Decided tonight. Yeah, I saw the Bears beat the Colts. I also saw Kyle Orton as a starter. It'll take at least 4 weeks before I buy him as a potential Trent Dilfer.

NFC South
I'm going to take the Panthers, but the Saints looked good in a very gutsy win against the defending divisional champs. If Rosario isn't the real deal for the Panthers, then they're going to need to REALLY shut down the Saints offense down the road, and the Bucs came about as close as I think anybody will.

NFC West
I guess I have to take the Cardinals by default? Still, tuck them between your legs, Zona fans. The only reason you're on top of this heap is because ONE of you had to play another team in the division.

Alright, I'm out for the day.