The NFL Playoffs are at hand. As such, Alex and Zac will be revisiting all twelve playoff teams, the characters that have made it to the final chapter in this season's story, and digging deeper to find out just who they've become having arrived at this point. Today, Zac takes a look at the Tennessee Titans.


"The race is not to the swift, or the battle to the strong, nor does food come to the wise, or wealth to the brilliant, or favor to the learned; but time and chance happen to them all."
- Ecclesiastes 9:11

If the Titans were a song, they would be:

Girl Talk – "Bounce That"



A mash-up of styles that should be confusion, but when executed correctly produces something unlike anything else out there.

If the Titans were a political figure, they would be:

George W. Bush


Why make yourself better when you can make everyone around you worse and come out looking just the same?

If the Titans were a vacation locale:

An extreme sports outing.


It's one of those weird things that its aficionados call "fun," when even they know that is the opposite of what it is.

If the Titans were an animal, they would be:

Camel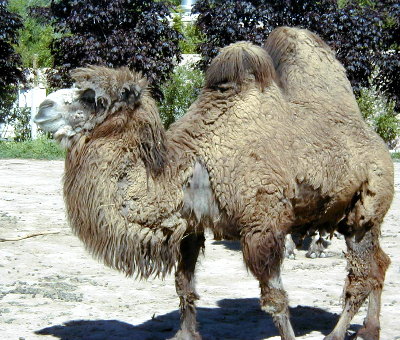 They plan ahead and survive because of it.

Who are the Titans?

Yoda has nothing on Jeff Fisher. Prior to the season, entering a year in which he had lost his 1000 yard rusher, his star return man and defensive playmaker, and any receiver of note, the Titans head coach told reporters that he felt the same vibe surrounding this unit that surrounded the 1999 AFC Champion squad. And as we all laughed and Merrill Hoge burned Vince Young in effigy, Fisher stood on the sidelines, watching his team quietly rack up wins and establish itself as a team that would not fade away. Having arrived at the end of the season, everyone seems surprised to see the Titans still playing football in January, with the sentiment seeming to be that they've somehow stumbled in by luck. Jedi Master Fisher knows better; this was his season to remind us all that you don't get to be the longest tenured head coach in the league without learning how to do one thing better than anyone else: Survive.

The Titans are the least pretty football team in these playoffs. There are no receivers who make us wonder at their physical ability, the defensive backfield is equally unremarkable thanks to the loss of Pacman Jones, and VY in year two has been the poster-boy for second year regression. So in order to survive, Fisher decided that he was going to need to inject both sides of this squad with fundamental grit, the kind that turns games into wars of attrition that leave everyone with a bitter taste in their mouths. Alex loves this team, largely because she's obsessed with lines that act as the stars of their respective squads. This is certainly the case for the Titans. On the offensive side of the ball, the relatively unknown squad has been able to give Lendale White running lanes (and those need to be some BIG lanes), popping finesse squads in the mouth to create a top five rushing offense and getting the points that they need in order to remain competitive. The brutality increases on the defensive side of the ball, where Kyle Vanden Bosch and Albert Haynesworth smash and scrape their way into offensive backfields, ruining plays and making opponents play equally ugly football. Is it going to be graceful? Absolutely not, but is it going to win football games? Up until this point, the answer has been yes, and the credit has to go to Jeff Fisher, who's pushed his ego aside to realize that a 13-10 pyrrhic victory is just as good as a 35-32 firework show. If he can keep game-planning this team to perfection, dragging each week's opponent down to the level at which the Titans wish to play, the Titans could become the most frustrating team in the playoffs.

Turning that frustrating nature into contention potential will depend on one thing: VY needs to get his groove back. Last season, before Jeff Fisher decided that he needed to reinvent his squad to play the crab barrel football described above, it was Young's ability to shape shift from competent pocket passer to constant fast break threat that allowed him to lead his team to victory. Without that, the AFC playoff field consists of teams that will be initially frustrated, but are ultimately good enough to overcome early stumbles. If, however, VY can find that amorphous quality again, opponents will be left baffled by the sheer unconventional nature of the Titans, who will have become a mix of hip hop and industrial rock on the field, a creative-smashmouth style blend that is much more difficult to grasp than any of its component parts. In the chaos that ensues, the Titans could easily come out on top of the kind of ugly wins that nobody who hasn't been watching this team all year will understand. Jeff Fisher knows that it only takes three of those wins to get his squad right back to where his 1999 team was when the AFC was all said and done…which is exactly what he's been counting on all along.